Installing rain gutters is a critical part of preventing dampness or flooding issues around your home. The gutter system is in charge of receiving large amounts of water during rainy seasons. For this reason, it has to successfully carry water – as well leaves, twigs and other debris – out until it reaches a separate drainage system. To do this, your gutters must be properly measured, attached and placed. If not, your property will definitely end up with costly water damage.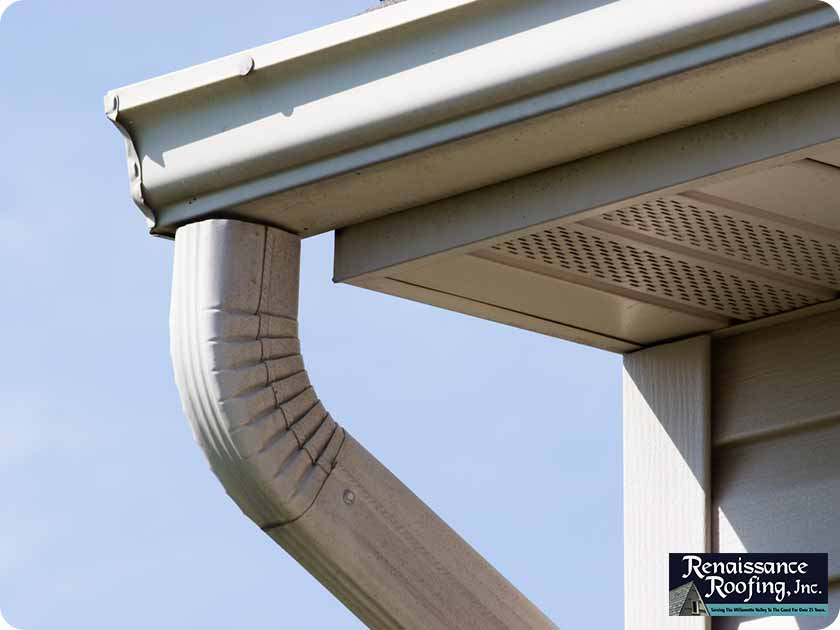 Here are some useful tips on determining proper gutter placement and hanger spacing.
Slope Calculation
Finding the right measurement of the gutter pitch is critical. The rain gutter system has to be slightly inclined or angled in a certain way so rainwater can flow directly to the downspout without hassle. An approximate pitch of ¼ inch per 10 feet is recommended. If too moderate, you are risking gutter overflow, which leads to water pooling all over your exterior space.
Since scope calculation is a precise task, hire an expert roofer or rain gutter specialist to ensure that it is done correctly and without negative outcome.
Gutter Placement
A few inches lower than the roof is the correct placement of gutters. If attached right on the roofline, rainwater will pull back up onto the underside of the roof, causing stains or damage to the fascia boards. The process of rain gutter installation requires keen attention to detail, so save yourself the headache, and employ the help of an experienced gutter installer.
Hanger Spacing
The correct hanger spacing is typically determined by the predominant climate in your location. If you live in an area with frequent sunny days and sporadic rain, keep the hangers close to the middle of the gutter, and observe a spacing of no more than 36 inches from the center. For rainy areas, hangers should have an utmost distance of 18 inches between them. This is to ensure that your gutter system can handle larger amounts of water.
Planning to give your exterior home a needed boost? Turn to Renaissance Roofing, Inc for a smooth and stress-free experience! We offer professional home improvement services – from roof maintenance to gutter installation. To start a conversation with one of our specialists, call us at (541) 791-4886 or fill out our online contact form. We serve many areas in Oregon, including Albany, Eugene and Salem.