Commercial Roofing Services to Count On
Renaissance Roofing Inc., has decades of experience in providing commercial roofing services to local business owners. We are an authorized installer of IB Roof Systems, a premium line of high-performance, durable PVC roofing membranes. We take pride in providing a full range of reliable and cost-effective roofing solutions, tailored to the needs of our commercial customers. Over the years, we have handled an array of projects including: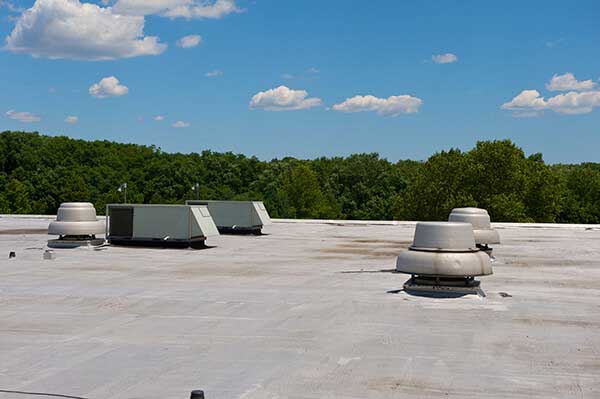 Office buildings
Industrial buildings
Apartment complexes
Retail centers
Restaurants
And more!
Working as a roofing contractor for 25 years has proven to us that almost anything can happen. When a roofing disaster strikes and your business or commercial space becomes flooded or is damaged during a storm, then take comfort knowing you have a friend ready to have your back in your time of need. The Renaissance Roofing Inc. team will be there every step of the way; from the evaluation of the damage, to the replacement, all the way to making sure you are ready for business!
A Leaky Roof Is Bad for Business
Think about the last time you went into a commercial space and saw a leaky roof. Renaissance Roofing Inc. knows first impressions mean a lot to new and returning customers. Letting a leak continue in your commercial space can lead to expensive water damage and permanent structural damage.
Renaissance Roofing Inc. offers a wide variety of high-quality commercial roof replacement options as well as roof repair for professional offices, apartments, retail establishments and many other commercial projects. We are ready to fix any damage that occurs. If you notice water leaking, a clogged gutter or broken shingles, then it is time to start making those much-needed renovations.
Contact Us for a Commercial Roofing Estimate
We know time means money. That is why we want to make sure your business and its assets are protected by a solid roof. Contact Renaissance Roofing, Inc in Albany at
(541) 791-4886
or in Corvallis at
(541) 754-5220
.