When to Call Your Local Gutter Repair Company
Gutters help protect your home or commercial business from severe water damage and preserve the structural integrity of your property. Look around your home or workspace and see if you notice any of the following gutter-related issues: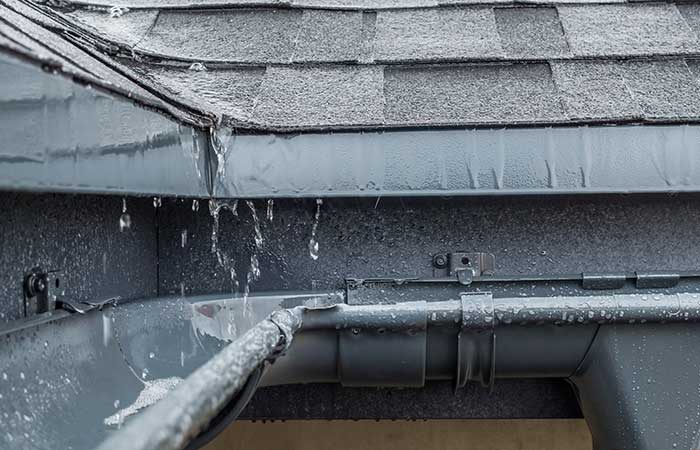 Leaking or rusted gutters.
Water overflowing gutters or no water coming from downspouts when it rains.
Mold growing on different areas of your property.
Rotting wood, cracking concrete or deterioration on the exterior of your home or business.
If you see any of these issues, then it likely is time to repair or replace your gutters. Schedule a complimentary consultation with one of our specialists who can accurately assess the root of the problem. You may just need gutter cleaning as opposed to replacing the whole system.
Gutter Installation
Are the gutters on your home beyond repair? Are damaged gutters causing problems for your office building? If you need gutter installation, Renaissance Roofing Inc. is here to provide the knowledge and skills that will get the gutter system on your home or commercial property functioning properly.
By choosing our staff of experts, you have the guarantee that your gutters will be custom-manufactured to fit your home and installed with precision. We also will optimize the function of your gutters, so they will quickly and efficiently move water off the surface of your roof and safely away from your home.
Are you ready for gutter installation for your home or commercial property? Then choose a staff of highly trained professionals you can trust! Renaissance Roofing Inc. is ready to deliver a finished project that will exceed your expectations.
Protect Your Home – Call for a Gutter Estimate Today
Routine gutter repairs will make sure your home is protected from water damage all year round and put your mind at rest. Stop water damage, mold, rot and more by scheduling routine services with an experienced gutter repair company. Contact Renaissance Roofing Inc. via our online contact form or call our office in Albany at
(541) 791-4886
or in Corvallis at
(541) 754-5220
.